Features
A Wider scanning range near the seabed for enhanced detection capabilities.

The adoption of innovative signal processing technology dramatically increases the sensitivity of the sonar and allows detection and tracking of fish schools over a considerably larger area.

A unique fan-shaped beam that scans from the sea surface to the seabed!

Thanks to a unique fan-shaped beam, increasing the scanning speed more than twice than that of previous models,

and an extended detection range helping reduce the amount of fish that go undetected,

the performance of half-circle sonar have been taken to a whole new level.

High frequencies (180 kHz) allow clear and easy distinction between fish, seabed and nets!

The Furuno FSV-75 Sonars use high frequencies (180 kHz) which, unlike low and middle frequencies, can easily detect fish tight on the bottom or nets.

Perfect to search for fish with rapid, erratic movement such as skipjack or tuna

At short ranges, half-circle sonars can swipe faster than full-circle sonars as they can receive faster. It is particularly useful when searching for fast moving fish.

On screen "Retract Transducer" indicator for quick adjustment and damage prevention.

In the presence of close marine objects, which could potentially damage the transducer, it is useful to know the degree of retraction for quick adjutsment when necessary.

Instantly spot if and how much the transducer is lowered or retracted.

Quick and secure operation!

Thanks to a control panel specially designed for Half-circle sonars, all operations allowing fish search and tracking, such as adjusting the sonar rotation parameters or tilting, can be performed simply and efficiently. This control panel comes with 10 of the most popular function keys among the current FSV series sonars, and it is possible to register your favorite functions from 40 available functions. A convenient one-click delete button is also included.

Tank guide for a robust Hull Unit.

Thanks to a "Tank Guide" mechanism, the transducer is protected from vibrations and impact, which considerably improves the stability and durability of the sonar.

Shorter lowering/retracting time.

The transducer can be deployed and retracted in 11 seconds (1100 mm), it's half the time of current Sonar models.
Specifications
General
Scanning

Full digital beam forming

Frequency

180 kHz

Basic Range

50, 100, 150, 200, 250, 300, 350, 400, 450, 500, 600, 700, 800, 1000, 1200, 1600, 2000 m
95, 190, 285, 380, 475, 570, 665, 760, 855, 950, 1140, 1330, 1520, 1900 m

Off-center
95, 190, 285, 380, 475, 570, 665, 760, 855, 950, 1140, 1330, 1520, 1900 m

Audio Search

1 kHz

10 W (optional speaker required)
Display Unit
Pixel number

SXGA(1280×1024)

Colors

32 colors (sonar pictures), 6 colors (marks)

Head-up, North-up* and Course up*
(*: sensor required)

Display mode

Slant, Vertical combination scan*, Echo sounder
combination*, Vertical and echo sounder combination*
(*: future use)

Additional functions

Water temperature, Wind speed/bearing
Interference rejecter, Afterglow, Noise limiter, Delete
color, Automatic target tracking, Auto-retraction,Fish school alarm

Others

Scan (Bearing/Distance), Cursor
(Distance/Depth/Bearing), Event, Fish school
(Position/Bearing), Own ship's location, Speed/Bearing
Hull Unit
Raising/Lowering time

8 s (800 mm travel), 11 s (1100 mm travel)

Allowable Ship's Speed

18 kn (15 kn for raise/lower operation)

Transducer Travel

800 mm or 1100 mm

Beam width

Tx, Horizontal: 180°, Vertical: 6° (-3 dB at 180 kHz)
Rx, Horizontal: 6°, Vertical: 6° (-3 dB at 180 kHz)
Interface
Ports

Video output: 2 ch, HDMI, SXGA
NMEA0183: 5 ch, V1.5/2.0/3.0/4.0/4.1
External KP: 1 ch, current loop or contact closure
(Input: 5-15 V, Output: 12 V)
Voice output: 1 ch, 10 W, 4 ohms, monaural
Gyrocompass: 1 ch, AD-10
Echo sounder input: 1 ch, VI-1100A analog
Contact closure: 1 ch, for external switch
USB: USB2.0: 2 ch, USB3.0: 2 ch
LAN: 2 ch, Ethernet, 1000Base-T

NMEA0183

Input: CUR, DBS, DBT, DPT, GGA, GLL, GNS, HDG, HDM,
HDT, MDA, MTW, MWV, RMC, THS, VBW*, VDR, VHW,
VTG, VWR, VWT, ZDA
Output: TLL
*: fore-aft/port-stbd speed data required
Power Supply
Processor Unit

12-24 VDC: 4.0-2.0 A

Transceiver Unit

100/110/115/220/230 VAC, 2.5 A max., 1 phase, 50-60 Hz

Hull Unit

200-220 VAC, 4 A max., 3 phase, 50/60 Hz

Rectifier

100/110/115/220/230 VAC, 1 phase, 50/60Hz
Environment
Temperature

Processor unit: -15°C to +55°C
Transducer: -5°C to +35°C
Transceiver unit: 0°C to +50°C
Matching box: 0°C to +50°C
Hull unit: 0°C to +50°C
Control unit: -15°C to +55°C

Relative humidity

93% or less at +40°C

Waterproofing

Transducer: IPX8
Control unit: IP22 (panel), IP20 (chassis)
Processor unit: IP22
Transceiver unit: IP22
Matching box: IP22
Hull unit: IPX2

Vibration

IEC 60945 Ed.4
Interconnection Diagram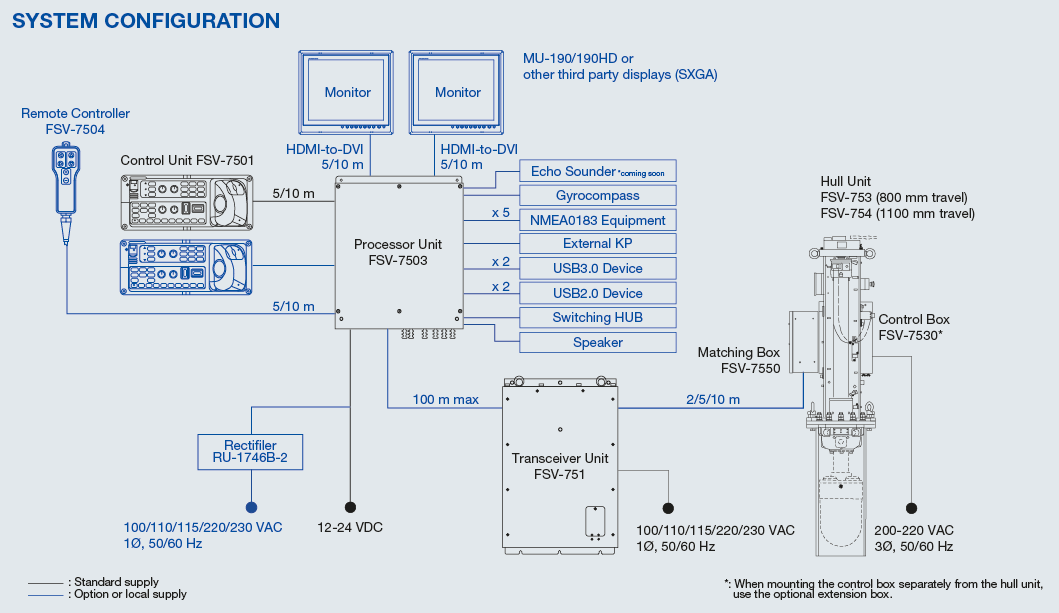 Interconnection diagram