The complete visual system for seeing targets at night.
Short and Long-Range Detection

M400XRs thermal camera features a 4x optical zoom lens so targets remain in clear, crisp focus right up to maximum magnification.

Thermal and Visible-light Payloads

Combination thermal sensor with up to 3X optical zoom and HD Color camera with 30X zoom.

Built for Harsh Conditions

Rugged, waterproof gimbal enclosure with automatic window heaters keeps image clear, while gyro-stabilization ensures steady viewing in heavy seas.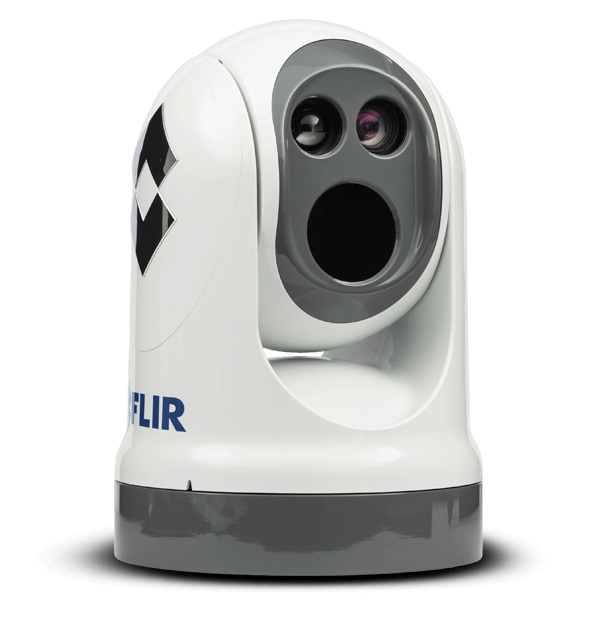 Enhanced Awareness for First Responders
The FLIR M-400XR provides exceptional situational awareness for first responders. It includes custom fire fighting software that displays a target temperature meter and isotherms. InstAlert™ mode depicts the hottest objects in shades of red and orange for easy identification, while IceAlert™ turns the coolest objects in view blue and green.
GENERAL
Detector Type

Long range color daylight and low light viewing
E-Zoom

1x to 4x
Field of View

64° to 2.3° Optical HFOV / 0.2 NFOV e-zoom
Image Processing

FLIR Propriety Digital Detail Enhancement™
Typical Configuration

Camera Head, Joystick Control Unit, Cables, & Operator Manual, Glass-filled top down riser
Warranty

2 Year / 3 years with registration
Camera Head Size

15.18" x 18.68" / 15.5" x 22" Swept Volume Cylinder
Integration Options

IP Control by FLIR Joystick, PC,and Web Browser Integration with leading Multifunction Navigation Displays (Nexus SDK) FLIR Sensors Manager Integration RS-485/422 Serial Control by Pelco D NMEA 0183 Serial Communications (for radar tracking)
Pan & Tilt Coverage

360° Continuous Pan, +/-90° Tilt
OVERVIEW
Focal Length

129 mm to 4.3 mm
Weight

45lbs.
COLOR CAMERA
Resolution

High Definition up to 1080/30p
CONNECTIONS & COMMUNICATIONS
Construction Type

BNC
Video Output

Dual, independent H.264 Network Video Streams HD-SDI Lossless Digital Video Interface High Definition Serial Data Interface Broadcast-quality video output Provides HD video over coax cable Switchable Composite Analog Video Output (SD) NTSC or PAL
DAYLIGHT IMAGING
Zoom

30X Optical Zoom
Detector Type - Daylight

Long range color daylight and low light viewing
Field of View - Daylight

64° to 2.3° Optical HFOV / 0.2 NFOV e-zoom
Focal Length - Daylight

129 mm to 4.3 mm
Minimum Illumination - Daylight

>0.5 lux at 50 IRE / .05 Lux in ICR Mode (B/W)
Resolution - Daylight

High Definition up to 1080/30p
ENVIRONMENTAL
Automatic Window Defrost

Standard
Operating Temperature Range

-20 to 55 deg C
Storage Temperature Range

-50°C to 80°C
MARINE IMAGING & OPTICAL
Video Tracking

Yes
POWER
Power Consumption

<50 W nominal; 130 W peak, 270 W 2/heaters
Power Requirements

24V DC
SPOTLIGHT
Beam

5° Divergence Angle
Lumens

580.0
Type

LED
THERMAL IMAGING
Thermal Resolution

640 x 480
Detector Type - Thermal

640 × 480 VOx Microbolometer
E-Zoom - Thermal

1x to 4x
Field of View (H x V) - Thermal

18° to 6° / 1.5° HFOV with e-zoom
Field of View - Thermal

18° to 6° / 1.5° HFOV with e-zoom
Focal Length - Thermal

35mm (wide) to 105mm (narrow)
Image Processing - Thermal

FLIR Propriety Digital Detail Enhancement™
VISIBLE CAMERA
Minimum Illumination

>0.5 lux at 50 IRE / .05 Lux in ICR Mode (B/W)