TZ Professional v3 with DFF-3D
DFF-3D x TZ Professional v3, astonishing results.
When paired with TZ (TIMEZERO) Professional software and the optional PBG module, the DFF-3D can generate up to 50 depth points per second to quickly create a highly accurate Personal Bathymetric Generated (PBG) database. The following screenshots show how the PBG database is dynamically created with the DFF-3D, in comparison with conventional Fish Finder models.

Further details on TIMEZERO website.
https://mytimezero.com/tz-professional/dff3d-module
Note:
SATELLITE COMPASS required as the primary source of position, heading, and motion (roll/pitch/heave) data.
The DFF-3D can detect and generate a PBG database down to 200 m. When the depth is deeper than 200 m, the PBG source can be switched from the DFF-3D (multi-beam) to a Fish Finder (single beam).
Specifications

GENERAL

TX FREQUENCY
165 kHz
OUTPUT POWER
800 W
MINIMUM RANGE
3 m
BASIC RANGE
5-1200 m
DETECTION RANGE
200 m* (Side Beam Best Performance)
300 m* (Main Beam Directly Under Boat) *Depending on bottom, water and installation.
BEAM ANGLE FOR TRIPLE BEAM SOUNDER
20°-50° from right under
DISPLAY MODE
Triple/Single Beam Sounder, Side Scan, Cross Section, 3D Sounder History

INTERFACE

LAN
1 port, Ethernet 10/100Base-TX
EXTERNAL KP
1 port (optional external KP kit required)

ENVIRONMENT

TEMPERATURE
-15°C to + 55°C
RELATIVE HUMIDITY
93% or less at +40°C
WATERPROOFING
IP55

POWER SUPPLY

DFF-3D
12-24 VDC, 1.4-0.7 A
RECTIFIER (PR-62, OPTION)
100/110/220/230 VAC, 1 phase, 50/60Hz

EQUIPMENT LIST

STANDARD

Multi Beam Sonar

DFF-3D

Transducer

B54 (Bronze, for thru-hull mount)
SS54 (Stainless, for thru-hull mount)
or TM54 (for transom mount)

Spare Parts, Installation Materials

OPTION
External KP Kit
Cable Assembly (2 m/10 m)

Rectifier

PR-62

DIMENSIONS
Interconnection Diagram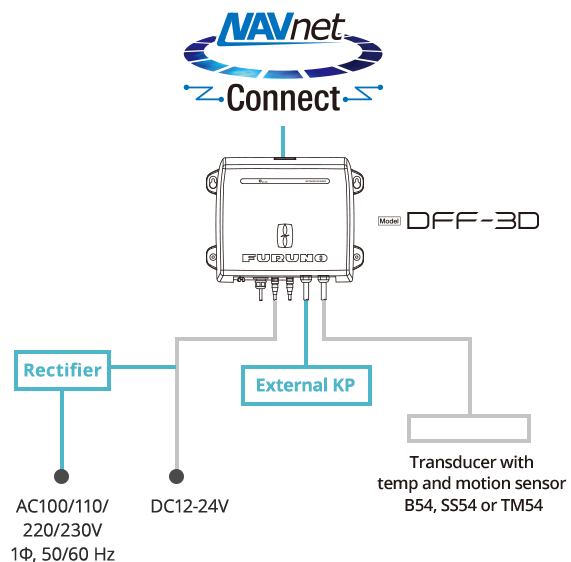 This product is compatible with NavNet TZtouch 3, NavNet TZtouch 2 and NavNet TZtouch or Windows OS with TZ professional software**.
For more information about our NavNet products, please click the link below.
* System version requirement for NavNet series:
NavNet TZtouch (TZT9/TZT14/TZTBB) version 5.01 or later
NavNet TZtouch2 (TZTL12F/TZTL15F) version 5.01 or later
** Software version requirements for TZ Professional:
version 3.3 or later