Premium Long Range Thermal Vision
Superior Short and Long Range Vision

Cooled thermal core technology and continuous optical zoom enables early detection of vessels, navigation aids, and key landmarks.

Exceptional Target Awareness

Automatic video tracking keeps the M500 locked onto visual targets, while radar integration directs it to track select radar targets.

Enhanced Clarity

The 14× optical thermal zoom can detect the heat signature of vessels up to ~8.3 nm / 15.4 km away.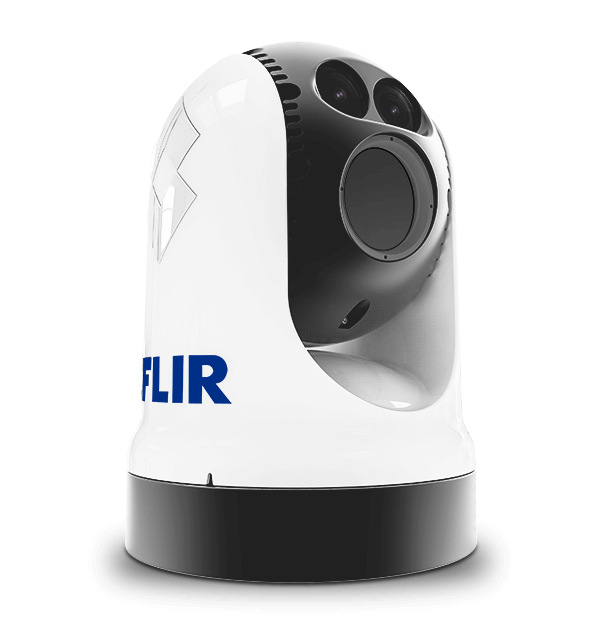 The Power of High Contrast Cooled Thermal Imagery
The M500's cooled thermal core is capable of producing images with enhanced detail and extensive ranges. Cooled thermal technology has been utilized by Coast Guard and Navy vessels around the world for decades, and now this military-grade technology offers government and commercial vessels alike unparralleled viewing capacity.
GENERAL
Pan/Tilt Range

360° pan and +/-90° tilt capability
Size

10.75" (273 mm) dia. x 15.65" (397.5 mm) ht
Contrast Enhancement

AGC or manual, histogram equalization, local contrast enhancement algorithms available
NMEA0183

TCP/IP, RS-422, NMEA 0183, Pelco D
Overlay

Integrated graphics overlays to indicate azimuth, AGC, active camera and menu control
Sharpness Enhancement

Automatic, adjustable Digital Detail Enhancement
OVERVIEW
Weight

45 lb (20.4 kg)
COLOR CAMERA
Resolution

1920 x 1080
E-Zoom - Color

12x
Field of View Limits - Color

Optical 63.7° x 35.8° WFOV to 2.3° x 1.29° NFOV
Visible Sensor

1/2.8" CMOS
CONNECTIONS & COMMUNICATIONS
Communication

TCP/IP, RS-422, Pelco D
Video Over Ethernet

2 channels of streaming MPEG-4, H.264, or M-JPEG
Output Modes

Black hot, white hot, false color palettes
ENVIRONMENTAL
Operating Temperature

-25°C to +55°C
Storage Temperature

-50°C to +80°C
MARINE IMAGING & OPTICAL
Video Format

NTSC or PAL NTSC or PAL, 720p30, 1080p30
Video Interface

Analog video, HD-SDI
POWER
Power Consumption

250 W (max w/heaters)
Power Requirements

12 VDC to 24 VDC (-10%+30% per IEC 60945)
RANGE PERFORMANCE
Person in the Water

~4.9 nm (9.0 km)
Small Vessel

~8.3 nm (15.4 km)
THERMAL IMAGING
NETD

<30 mK
Spectral Response

3-5 µm
Thermal Resolution

640 x 512
Detector Type - Thermal

Cooled MWIR InSb 640x512 Focal Plane Array
E-Zoom - Thermal

4x
Field of View Limits

Optical 28° x 21° WFOV to 2° x 1.5° NFOV
Field of View - Thermal

28° x 21° WFOV to 2° x 1.5° NFOV
Optical Zoom - Thermal

1x to 14x (continuous)
Video Refresh Rate - Thermal

25 Hz (PAL) / 30 Hz (NTSC)